It's unwise to pay too much, but it's worse to pay too little. When you pay too much, you lose a little money – that's all. When you pay too little, you sometimes lose everything, because the thing you bought was incapable of doing the thing it was bought to do. The common law of business balance prohibits paying a little and getting a lot – it can't be done. If you deal with the lowest bidder, it is well to add something for the risk you run, and if you do that you will have enough to pay for something better." – John Ruskin, British Philosopher
California Aqua Pros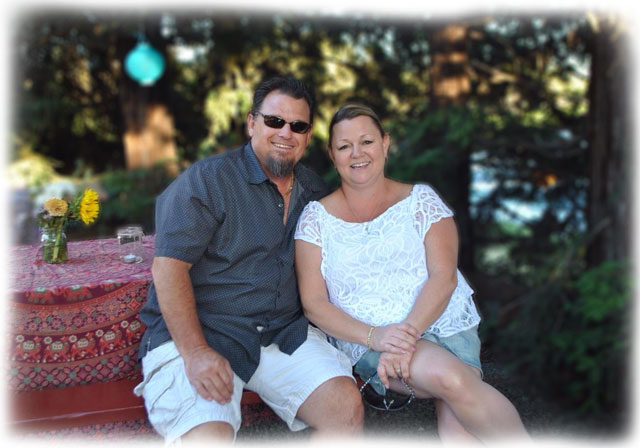 (Greg & Marlo Purkey)
High school sweethearts, we grew up in a small farming town in Ca.  We relocated to the Bay Area in 1988 and married 1991.  We started California Aqua Pros in 1993.  We both worked two jobs getting it off the ground.   Ca Aqua Pros started as a swimming pool service company.  It grew and our services expanded to complete builds, remodels and then… adding waterfalls to existing pools.  That is where the business took a big turn.
We researched and studied the differences between brands of pond product.  It was an easy decision to follow the Aquascape approach of pond building.  We began loving the creative aspect of ponds.  Just a few years later we received a notice from Aquascape that we were the #14 Contractor in the nation (ranked by purchase volume).  We attend Pondemonium 2006 to be recognized and for more intense training.
Of course the economic down-turn affected us greatly in 2008-2010.  California Aqua Pros stayed true to its course of quality workmanship, excellent customer service and value.  Since then, every year has been better. We learned a lot in those years in between.   We continue to be ranked in the Top 10 with Aquascape year after year.
Koi ponds, Pondless Waterfalls, Streams and Recreation Ponds
Quality Pool Construction, Major Repair and Exotic Remodel from designing to completion
Maintenance Packages for Every Lifestyle
Base Prices
KOI PONDS
We use a system designed by Aquascape Designs which integrates a biological filter
Starting at
$8500 8x11 pond
Pondless Waterfalls
Since the water level never pools above the level of the rock and gravel fill, it gives the appearance of a pondless waterfall.
Starting at
$7700 up to 2' tall waterfall
Fountainscape
A perfect solution to enjoy the sound of water and attract nature with minimal foot print
Starting at
$4800 1 Feature fountainscape
How the Process Works
FILL OUT OUR DESIGN CONSULTATION FORM
Whether you are interested in a residential project or a large-scale commercial design. We suggest you send us pictures of the desired area your feature will be installed to better serve you.
we direct your inquire to the proper expert
Someone from our team will contact you in a timely manner to discuss and understand your project.
On site consultation
One of our Designers will meet onsite with you to discuss the design and options for your backyard. We will have many pictures from our robust portfolio to help convey the details of the project. From rock types and lighting to variable-speed pumps and auto fill systems, we leave no stone unturned.
Itemized proposal and start project
We will provide an emailed itemized proposal that lays out the scope of work discussed during the consultation. Once we receive the signed proposal and down payment your project will be placed on our calendar to start the amazing transformation!
Featured Projects
Our company pays special attention to the details of every project to ensure the complete satisfaction of each client. View the examples below or contact us for more information.
We love our pondless waterfalls (3). They are beautiful - very natural looking. All employees were very professional and very kind (flawless).
Mr & Mrs Sanchez, Clayton, CA
We are looking forward to many years of enjoyment with our beautiful new water feature and would happily recommend your work to any prospective clients you may have.
Mark H.
Greg is an absolute artist and left us with a beautiful water feature that brings my family and friends together to enjoy on frequent occasions.
The Holmes Family
I met with Greg Purkey today to discuss replacement of my above-ground pond filter. He was so pleasant and professional and to my surprise, said that I didn't need a new one. He could have easily pulled the wool over my eyes and told me that he could give me a new ``whisper quiet`` one. As honest as he was, he told me that they all have about the same level of sound. He has restored my faith in humanity. It is wonderful to meet someone so ethical.
Martha L. , East Bay
What can I say, we are so happy about our waterfall and we receive nothing but compliments from anybody who sees it. It is such a unique feature in our backyard and truly makes our backyard our personal oasis.
David and Barbara M.